Our goal is to increase access to donated fresh produce and other healthy foods to area hunger-relief sites that serve the at-risk, food-insecure population by providing local farmers and food producers with free, effective delivery and distribution of their surplus.
The face of hunger in our area is changing. So many among us are underemployed, recently laid off, disabled, struggling with home foreclosures or even homelessness, or working two jobs to try to make ends meet. Nutritious food is unfortunately more expensive and is often the first area that people are forced to make budget cuts. Rolling Harvest Food Rescue is committed to helping our partner sites provide better and healthier food choices for these families.
Our recipient sites include food pantries, domestic violence shelters, low-income senior centers, children and family homeless shelters, and at-risk low-income adults with health challenges. 32% of the people we help are children; 12% are seniors. They are our neighbors.
Since 2010, Rolling Harvest has been focused on partnering with local farmers, making it easy for them to share their fresh, healthy produce with the food-insecure communities in which they live. Our dedicated volunteers help with daily pick-up and delivery schedules from 35 farms and food producers, assist with weekly distributions to more than 50 hunger relief sites, and glean (harvest) directly from our farm partners' fields.  We also conduct weekly Nutrition Education Outreach with Free Farm Markets at some of the sites to educate the recipients about nutrition, cooking and using the donated produce to their best benefit with no waste.
With even more local farmers and food producers on board for our 2017 harvest season from May through December, we are experiencing another year of tremendous growth and significant increases in both the number of people we are helping and the amount of produce we are sharing. We are almost at our 1.5 MILLION-pound milestone of locally-grown fruits and vegetables, high-quality organic meats and a higher percentage of organic produce distributed to date. That's more than six million additional servings of super-healthy food on the plates of thousands of hungry families!
We continue to increase our impact and effectiveness through collaboration, projects and partnerships with other local social service agencies and food rescue organizations.
Turning food pantries into farmers markets remains the goal. With your continued help and support, we look forward to providing even more and impacting more lives for 2017 and beyond.
Awards
United Way United in Health & Wellness Impact Award 2016
Bucks Happening List Finalist 2016
Edible Jersey Magazine 2015 Local Hero of the Year
Bucks County Opportunity Council's 2015 Community Connector Award
The Greater Philadelphia Coalition Against Hunger 2015 Hunger Fighter Partner Award
United Way of Bucks County Multiplier Award 2014
Applegate Company's Food Changemaker Award 2013
Wakefern Corporation's Angel of Hunterdon County award in 2012
Partner Farms & Relief Sites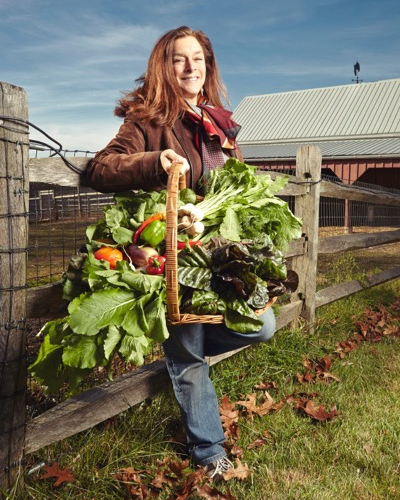 Cathy Snyder
Founder and Executive Director
Following a Sales career in Broadcasting, Philadelphia native and food justice advocate Cathy spent 14 years living overseas and raising her family in Europe and Asia before returning home and beginning her social impact journey. Awakened to the depth of food insecurity while volunteering at a local food pantry in the tourist area of New Hope, PA, she realized there was an untapped resource in the local agricultural community to help fill the nutrition gap faced by food pantries – organizations whose limited budgets and growing customer base make it ever more challenging to provide nutritious, high-quality food. She reached out to local farmers
In just a few short years, Cathy has grown Rolling Harvest Food Rescue from an initial connection between one food pantry and one farm to a vibrant network of volunteers, farms and food producers, and hunger-relief sites. Cathy is committed to raising awareness about the hidden face of local hunger, food waste and food-insecurity and offers leadership through public speaking engagements on actions we can all take to nourish our neighbors in need.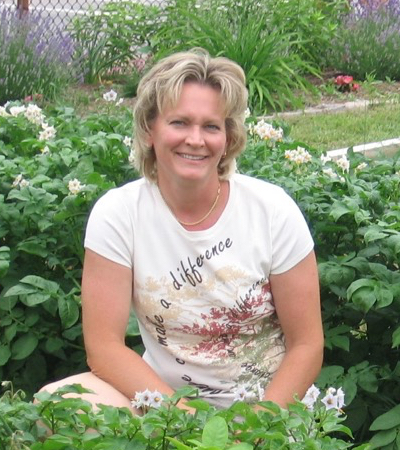 Jamie McKnight
Program and Development Director
Jamie joined Rolling Harvest Food Rescue as Program and Development Director in July 2015, bringing with her invaluable nonprofit and agriculture experience along with a commitment to food justice.

From 2007 through 2014, Jamie served as the Director of Teens 4 Good, a Philadelphia-based, youth-led nonprofit program addressing the issues of poverty, urban blight, and the lack of accessible fresh produce in many Philadelphia neighborhoods. As Director, she worked together with youth and city resources to develop and sustain the program.
Jamie also served as a Philadelphia Green Advisory Board member from 2003 to 2014, as an Advisory Board member to Pennsylvania Horticulture Society (PHS) and was on the Advisory Board for the City Harvest Growers Alliance. In 2009, she was honored by Philadelphia Mayor Michael Nutter and the Philadelphia Phillies as a Champion in the Community in 2009, and then served on Mayor Nutter's Food Policy Council from 2012 to 2014.
"There are so many ways that Rolling Harvest Rescue supports the mission of Fisherman's Mark to not only put fresh food on the table of our most vulnerable populations but to improve access to healthy food for this population. It is through committed partnerships like this that Fisherman's Mark is able to keep
the community healthier."
Fisherman's Mark Food Pantry
Board Members & Advisory Council
Board of Directors
Kevin Strouse, MA,
Board Chairman,
Director, Business Development at Tascent, Inc.
Former Director, Teach2Serve, PA
Democratic Nominee for Congress
Branch Manager, Central Intelligence Agency
Kate Bianchini,
Volunteer Director, Doylestown Food Pantry
– Bucks County Housing Group
Steven M. Finn, MBA, MSOD, MPHIL,
VP of Customer Success, Lean Path Food Waste Prevention
Former Regional Vice President, Casella Organics | Environment & Sustainability Management
Former Managing Director, Sustainability and Change Mgmt Consultant
Board Member, Ample Harvest
Evan Lide, JD
Associate, Stark and Stark Law Offices
Board Member, Latin American Legal Defense and Education Fund (LALDEF)
Maria Nicolo, MSW,
Co-Owner and General Manager, Gravity Hill Organic Farm, LLC
– Organic Farm Owner/Community Outreach
Lynne Snyder, MEd, CDM,
Former Program Coordinator, Health Promotion Council
Program Coordinator,  Farm to Families, City Harvest, USDA's CACFP
Former Chef Instructor, Philabundance Community Kitchen,
ServSafe Certification Instructor,
– Consultant for food safety and nutrition education
Advisory Board
Jennifer Braxton
Director of Professional Development, Association of Delaware Valley Independent Schools
Alex Cannon
Project Management & Strategic Planning
JoAnn Connelly, MSW,
Former President, Greater Philadelphia Food Bank
Board Member, Resources for Human Development,
Board Member, Carol for Heart,
Board Member, BC League of Women Voters,
Advisory Board, BC Office of Children and Youth,
– Non-Profit Administration Advisor
Mary Gorman,
Financial Infrastructure Adviser, ArtYard
Cynthia J. Jahn, Esq.
Legal Advisor, Farm Issues
Jack Santry,
Community Activist & Volunteer
Board Member, Coordinated Council for Health and Welfare,
Board Member, The Upper Moreland Educational Foundation
Robert Solly,
Co-owner, Solly Brothers Farm,
Adjunct Professor, Delaware Valley University